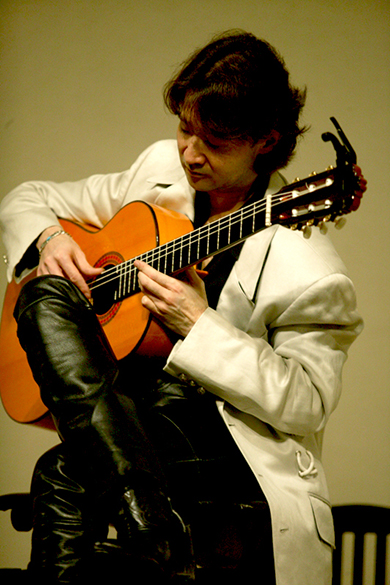 Shiro Otake (Shiro "le Gi♰an")
Shiro Otake was born in Tokyo, Japan. At the age of thirteen, he became fascinated by the music of renowned Argentine folklorist, Atahualpa Yupanqui (1908-1992.)
He studied classical guitar with Iwao Suzuki, and learned Yupanqui's vast repertories.
In August, 1988, Shiro moved to New York. Then in January, 1989, he was invited to Yupanqui's summer home in Cordoba, Argentina, where he received personal tutoring from Yupanqui himself. In 1992, Shiro composed music of Yupanqui's poem "Hiroshima-La Ciudad Que No Olvido (Hiroshima-The City I Shall Never Forget.")
He has performed in many of world's major cities, including Moscow, Warsaw, Krakow, Madrid, Barcelona, Paris, Strasbourg, Reykjavik, Tokyo, New York, Boston and throughout Latin America, with special performance at Machu-Picchu, Peru and the great Aztec Pyramid of Templo Mayor de Tenochtitlan in Mexico City. He also performed at Cosquin Festival, Argentina's biggest folk music festival.
In 2009 and 2010, Shiro was invited to Carnegie Hall. He performed Bach, Yupanqui, Villa-Lobos and also his original compositions.
These concerts had great success.
In 2011, he first performed his original spectacle, dedicated to Atahualpa Yupanqui 'Bach's Family Recital' in Tokyo with Kyoko Kagawa, one of the finest actresses in Japanese film history and also with the children choir. Meanwhile in 2012, he was invited to Seoul, South Korea to give a special joint recital 'Bach in Latin Style.'
In 2011, his "Hiroshima-La Ciudad Que No Olvido" was officially elected in 'The Best 111 interpretations for Latin American Music (Artes Publishing)' in Japan.
In 2013, Shiro was invited to Japan-South Korea special friendship concert in Tokyo to premiere 'Danza de Hanga,' a new composition for flute and guitar based on the Korean legend.
In 2014, he composed the soundtrack for the Japanese new film 'Ichijiku no Mori(The Fig Forest)' which was produced by BS-TBS.
In January and February, 2014, the government of the province of Cordoba (Argentina) invited Shiro to participate the music festivals in Cordoba as the illustrious guest artist.
In June, 2014, he made a 'Iberoamericana (Ibero-America)' tour to Paraguay (Asuncion and Encarnacion) and Argentina (Buenos Aires and Cordoba.) Shiro premiered 'El Fuego de Los Dioses,' his newest composition for guitar and choir which officially dedicated to Leopoldo Lugones, a national poet of Argentina to celebrate 140th anniversary of his birth (June 13th, 2014.) This tour had a huge success.
In Tokyo, April, 2017, Shiro premiered "La Guitarra," an homage spectacle to observe the 80 years anniversary of the death of Federico Garcia Lorca with Kyoko Kagawa (poem reading.)
Also in May, He was invited to the United Nations Headquarters in New York to give a special concert "Peace is…Homenaje (Hommage)." This event had huge impact and success. Also in October, 2017, Shiro gave a tour in South America and had a huge success.
 
Shiro is fluent in English, Spanish, French, Italian and Japanese (his native language.)
He learnt Jyosui Shoutoukan-ryu Karate with the Grand Master Shozan Kubota for two years.
Play Shiro's Classical and South American Folkloric Guitar Works.
'Cortez-Guerra-Catedral(2nd movement from Suite "Tenochtitlan" for two guitars' by Shiro El Arriero
(Recorded in New York. 02/20/00)

'Danza de Pachamama' by Shiro El Arriero (Recorded in New York. 03/04/04)

'Prelude BWV996' by J.S. Bach (Recorded in New York. 04/04/09)

'Lagrima' by Francisco Tárrega (Recorded in New York. 04/04/09)

'La Santiagueña' by Shiro El Arriero
(Live Recorded at "World Peace Memorial Cathedral" in Hiroshima, Japan 04/05/08)