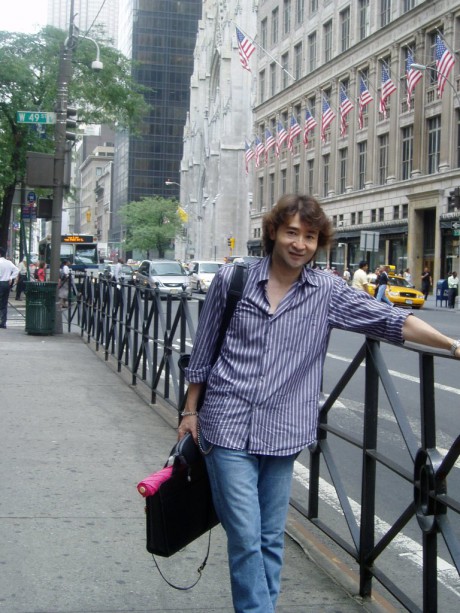 ***
He decido de participar al evento especial (agosto 2015, Nueva York.) que conmemora al 70 aniversario del incidente tragedia de la bomba atómica de la ciudad de Hiroshima.
Gracias a '¡Hiroshima! La ciudad que no olvido (Letra:Atahualpa Yupanqui, Musica:Shiro),' yo podia estrenar como un músico oficialmente en 1992.
Mas en el mismo tiempo, había una época que tenia que sufrir con el reporte de los diarios japoneses que dieron énfasis como si yo era un tipo de 'anti-guerra músico (la foto abajo)' aunque solo lo que quería divulgar era la bellísima poesía de Don Ata.
Entonces después de todo, he cesado de interpretar 'Hiroshima' por mas que 10 años.
No puedo explicarte bien porque ha cambiado el estado de mi alma, pero he decidido de interpretar 'Hiroshima' de nuevo.
Este año debe ser muy importante para nosotros japoneses históricamente.
Creo que como un músico, tal vez yo no estaba listo todavía cuando recibí ese tipo de reporte por los diarios japoneses.
¡Era tan joven yo!
Al evento de agosto en Nueva York, de nuevo con todo mi respeto quisiera llevar la maravillosa poesía que escribió Don Ata, quien ha amado Hiroshima desde el fondo de su corazón.
***
J'ai décidé de participer l'événement 《août 2015, à New York 》 qui commémore 70 années anniversaire de l'incident tragedic de la bombe atomique à Hiroshima.
Je voudrait remercer beaucoup a 《Hiroshima! La ville que Je n'oublie pas ~Lyrique:Atahualpa Yupanqui, Musique:Shiro~》.
Avec cette chanson, je pourrais être un musicien professionnel en 1992.
Mais il y'avait une époque que j'ai effondrés pour effectuer Hiroshima après avoir reçu les rapports des médias japonais qui ont souligné que si je étais un type de musicien anti-guerre 《la photo en bas》.
Bien que Je ne peux pas te dire bien pourquoi mon esprit a changé, je me sens comme je ne étais pas prêt à effectuer cette magnifique quand je reçois ces commentaires japonais de journaux.
Je étais si jeune!
Cette année il faut être très important pour nous japonais .
Encore une fois , je vais emporter un beau poème de Atahualpa Yupanqui qui aimait former notre pays le fond de son cœur .
***
I have decided to participate the special event to commemorate the 70 years anniversary of the tragic incident happened in Hiroshima in 1945.
Thanks to 'Hiroshima! The city I shall never forget (lyric:Atahualpa Yupanqui, music:Shiro),' I could make a debut as a professional musician back in 1992.
However in the mean time, there was an era that I had to suffer with the articles by the Japanese newspapers which emphasized as if I was an anti-war musician (photo below.)
After all I've stopped to perform 'Hiroshima' for over 10 years.
I can't tell you well how my mind has changed but, I feel like I was not ready yet for this magnificent piece to perform when I received those reports from the Japanese media.
I was so young!
Time has passed and this year must be very important for us Japanese historically.
Finally I would like to spread the beautiful poem written by Atahualpa Yupanqui who loved Hiroshima from the bottom of his heart again.
***
8月にニューヨークで行われる予定の「広島原爆投下70年」記念イベント出演を承諾しました。
ユパンキが書いた美しい詩「ヒロシマ〜忘れえぬ町」に作曲し、それが公式の演奏許可を受けたことで自分はミュージシャンとして世にでることができましたが、その一方、下記の写真にある日本の新聞の記事のような'反戦音楽家'的な報道に悩み、しばらくの間この曲の演奏をストップしてしまった時期もありました。
よって、こういった広島関連のイベントに参加したことはいままで一度もなく、これまですべての出演依頼を断ってきました。
心境の変化については上手く言えませんが、'ヤング世代の戦争感'や、'戦争の愚かさクールに'といった報道を受けたのは、自分自身まだ若く、ひとりのアーティストとしてこの素晴らしい詩の世界をきちんと表現できるほど、当時まだ熟成していなかったことが今となっては大きい気がします。
決してユパンキに頼ることのない自分自身の音楽ができつつある今、自分はあらためて、これから「ヒロシマ」の美しい詩の世界をひろめてゆこうと思っています。