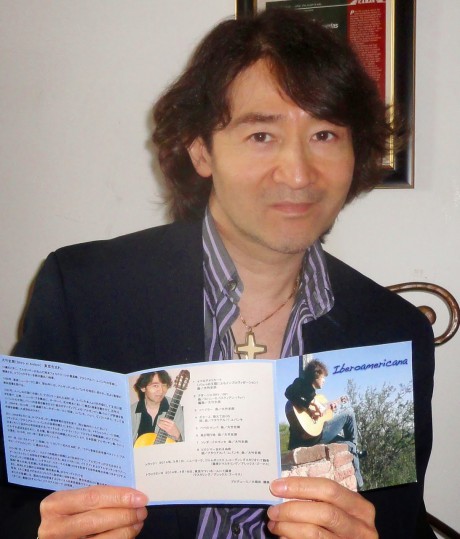 ***
'Liner notes especial' de la edición japonesa de mi CD 'Iberoamericana/Live.'
Estoy muy satisfecho y contento del hermoso diseño de que utiliza al cielo azul de la Villa de Maria del Rio Seco, Cordoba, Argentina. ¡Mi segundo pueblo natal!
***
La « carte liner notes speciel »de l'édition japonaise de mon CD
' Iberoamericana / Live' .
Je suis très heureux de cette belle conception qui a utilisé le ciel bleu au nord de Cordoba, en Argentine , ma deuxième ville natale!
***
Lo speciale ' liner notes copertina' dell'edizione giapponese di mio CD
' Ibaroamericana / Live. '
Sono molto felice con il design che utilizza il cielo azzurro di Cordoba Norte , Argentina , la mia seconda città natale!
***
The 'special liner notes' for the Japanese edition of 'Iberoamericana/Live' CD.
I'm so happy and satisfied with the beautiful design which utilizes the blue sky of northern Cordoba, Argentina, my second hometown!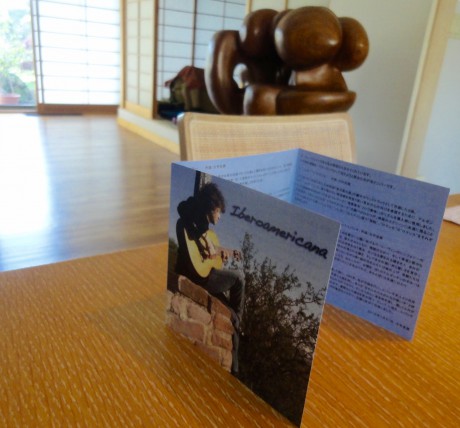 ***
今年の10月から、日本国内盤CD「イベロアメリカーナ/ライヴ」に収められるスペシャルライナーノーツを、大応援団長、大根田勝美さんが日本からニューヨークに持ち帰ってくださいました。
私にとっての第二の故郷といえるアルゼンチン、北部コルドバの青空が活かされたナイスデザインは、私の親友であるアーキテクト、林誠君によるものでとても気に入っています。
このCDは、昨年のリリース直後にドイツで5スター評価を受け、アメリカの大手オンラインミュージックストアーでも今年になってから売り上げランキング第1位を記録しました。