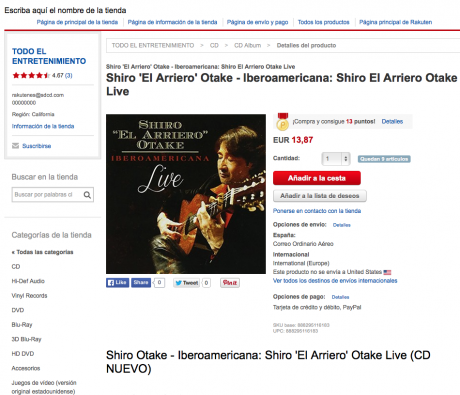 ***
'Rakuten' de esapña se empezó vender 'Iberoamericana/Live' CD.
'Rakuten' es uno de los mas grandes vendedores japoneses por on-line.
Agradezco desde el fondo de mi corazón, a la gente que ya ha comprado este CD album lleno de mi pasión.
¡Muchas gracias!
***
« Rakuten » de l'Espagne a commencé à vendre ' Iberoamericana / Live CD .
« Rakuten » est l'un des plus grands vendeurs japonais pour on-line .
Je tiens à remercier les personnes qui ont déjà acheté ce CD album, qui est plein de ma passion.
Merci beaucoup!
***
'Rakuten' de spagna ha iniziato a vendere ' Iberoamericana / Live' CD .
' Rakuten ' è uno dei più grandi venditori giapponesi per on-line .
Sono grato a persone che già hanno acquistato questo CD album che è pieno della mia Passione .
Grazie mile!
***
'Rakuten' of Spain has started selling 'Iberoamericana/CD.'
'Rakuten' is one of the most biggest Japanese online sellers.
I'm truly thankful for all the people who already bought this CD album which is full of my passion.
Thanks million!
***
スペインの'楽天'が「イベロアメリカーナ/ライヴ」CDの販売を開始。
自分はスペインに楽天があるなどということも知らなかった。
持てるすべての情熱と演奏力を注いだこのアルバムは、現在おかげさまで全世界に販売網が拡がり好評を博しています。
日本では今秋より本格販売を開始する予定(もうしばらくお待ち下さい)。
すでにご購入いただいた皆さまに、この場を借りて心から感謝申し上げます。